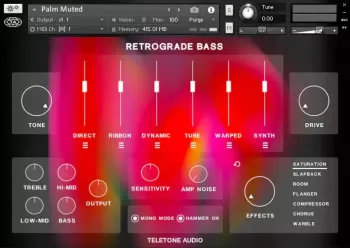 The sound of a 1968 session player.
Retrograde Bass recreates the sound of session bass players from the late 60's. Warm, analog, and vintage is where Retrograde Bass starts, but a whole host of tools can take the sound well into the future. From 1968 to 2068, Retrograde Bass is truly A Bass Odyssey.
RETROGRADE BASS IS A VIRTUAL INSTRUMENT PLUG-IN FOR NATIVE INSTRUMENTS' FREE KONTAKT PLAYER, COMPATIBLE WITH ALL MAJOR DAWS (LOGIC, PROTOOLS, CUBASE, FL STUDIO AND MORE).
A vintage fender P-Bass 3 ways…
Palm Muted
We sampled the entire bass with a piece of felt taped to the top of the strings, in addition to muting the strings with the palm of the hand.
Light Palm Muted
You can switch back and forth between Palm Muted and Light Palm Muted using the Mod Wheel. We sampled the entire bass a second time, but with the palm slightly lifted to allow the strings to resonate longer.
Open Sustains
A third round of sampling was done with no felt or palm muting, allowing the string to resonate uninhibited.