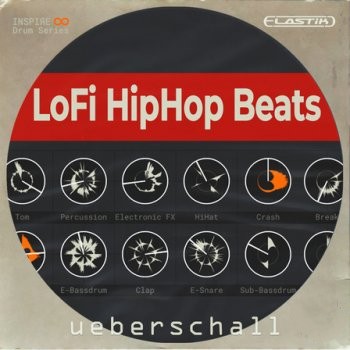 LoFi HipHop Beats
Whether you're producing HipHop, LoFi, RnB, Downbeat, Lounge or Chill, you can never have enough drumbeats to drive your inspiration. LoFi HipHop Beats delivers the absolute motherload of the coolest, smoothest, electronic rhythms. Including both played and programmed grooves, this Elastik library is a treasure chest waiting to be explored.
Punchy Drum Sounds Ready To Inspire
Containing over 400 core beats, 11 GB of sample data, and nearly 4000 individual 4-bar loops and phrases, LoFi HipHop Beats has plenty to offer. A total of 10 different drum kits – retro, punchy, classic, sub-rich, snappy and more – were used to create 45 drum beat construction kits, each of which is presented in both played and programmed versions. Each of the 45 construction kits also offers multiple groove variations. In turn, each variation provides both a full dry mix, a full FX mix, and individual loop layers for fat and deep kicks, snares, claps, snaps, hihats, toms and cymbals. Two additional FX loops are also provided and can easily be layered with the main loops.
Ideal For HipHop, LoFi, RnB and Lounge
With original tempos ranging from 60 to 98 BPM, the grooves are perfect to that downtempo feel. However, Elastik's powerful tempo manipulation features allow you to easily match the tempo of the grooves to an existing project. In addition, Elastik's Inspire function can create almost limitless groove combinations by creatively mixing and matching loop layers between the different groove sets.
Putting The Smooth Into The Groove
Featuring some truly great drum sounds, all the sonic options you might need, and a massive collection of grooves that manage to be both classy and catchy, LoFi HipHop Beats just waiting to get your next project off to a flying start. A great source of inspiration for any busy producer working in HipHop, LoFi, RnB, Downbeat, Lounge, Chill or related musical styles.
Drums played by Peter Kohlwage, Sounddesign by J.Holo