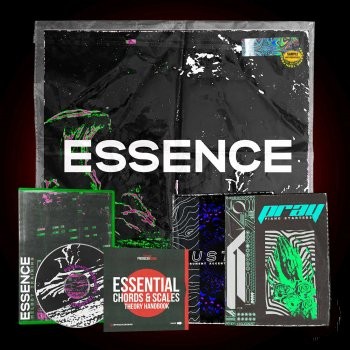 •Premium Piano, Guitar, Keys, and Bass Guitar Samples that sound amazing and make creating great vibes easy and fun!
•Huge MIDI Melody Library played by real musicians to inspire you and lay down the foundation for your compositions.
•100% Royalty-Free Sample Library w/ Stems that you can use as-is or as building blocks for creating your own melodies.
•Exclusive Melody Training on how to create high-level melodies that will have artists and producers begging to work with you!
7 EXCLUSIVE BONUSES
ESSENCE MELODY TRAINING
$100.00 Value
Get ready to go through an in-depth training on how to make high-level melodies for artists like Lil Durk, Polo G, Roddy Ricch, and Lil Baby!
TB Digital will show you priceless production techniques our team has learned from years of working with some of the biggest artists and producers in the world!
This training is a great resource to teach you how to use all the tools that you're getting in the ESSENCE Production Suite.
Both FL Studio and Ableton are covered in this training.
SEND YOUR LOOPS TO INDUSTRY PRODUCERS
Be ready to submit your melodies and help us create the fifth volume of the VIP Community Placement Pack!
This pack will be sent to our industry producer friends such as Sonny Digital, Supah Mario, Jetsonmade, Hitmaka, and many others! It will also be distributed to over 87,000 producers globally.
LUST INSTRUMENT ACCENTS
$50.00 Value
What are accents? Accents are one shot, melodic flourishes that create unique variation and intrigue throughout a melody or beat. They have become a staple in our team's workflow, and should definitely be a tool in your arsenal as well.
The accents in LUST have a focus on real instrumentation and were curated to fit perfectly with the massive collection of MIDI, samples, and starters you are getting in the ESSENCE Production Suite.
PRAY PIANO STARTERS
$50.00 Value
PRAY targets the emotional piano sound of artists like Rod Wave, Polo G, NBA Young Boy, NoCap, and Toosii.
You can quickly drag and drop the piano starters into any track that needs some keys, or you can apply your own sounds to the MIDI and arrange however you like!
ESSENTIAL CHORDS & SCALES THEORY HANDBOOK
$50.00 Value
This little gem contains essential knowledge on chords and scales used to streamline your creative workflow for making placement melodies that artists and fans go crazy over.
This is a great reference to pull up when creating melodies and arrangements with ESSENCE. Master the content in this book and you'll become a melody creating machine.