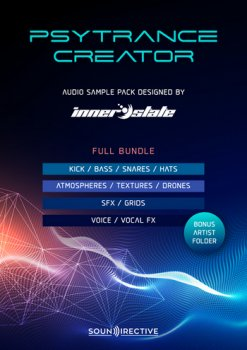 An audio sample pack built on entirely new principals.
Structured to help you design your own personal samples , giving you multiple options to forge your own sound identity.
All complex samples (atmos / pads / bass / dark textures / drones / grids / up filters / down filters) are provided in full (pre-made) samples and individual layers (separate elements) so you can combine, extract, recreate, edit and mix them at will, giving your own approach and creative angle. All samples and layers are provided in full scale (C-B) guaranteeing the maximum sample quality of each sample regardless of the tracks fundamental frequency.
Designed and produced by: Marios Karakasidis / Inner State
Special artist folder containing sounds by: Egorythmia / Hi Profile / Krama / Side Effects / One Function / ILAI / Lunatica / Invisible Reality
What you get inside the sample pack
10 Kicks
10 Bass MONO (Full Scale)
20 Bass STEREO (Full Scale)
40 Bass Lines Various
15 Snares
16 Cinematic Drums/Perc
18 Hi Hats
26 Special Artist Sounds (all artists)
15 Atmospheres/Pads (Full Scale)
15 Dark Textures (Full Scale)
20 Drones/Ambients Dark Layers (Full Scale)
7 Drone/Ambients Sub Layers (Full Scale)
20 Grids (Full Scale)
20 Dark Sfx (Full Scale)
10 Down filters Noise Layer
10 Downfilters Simple Layer
10 Downfilters Complex Layer
10 Up filters Noise Layer
10 Up filters Simple Layer
10 Up filters Complex Layer
10 Impacts Deep Layer
10 Impacts Sub Layer
20 X Note Sfx
10 Zaps Dry (Full Scale)
20 Synth Grids (Full Scale)
30 Dry Vocal Phrases Male
30 Dry Vocal Phrases Female
15 Vocal Phrases Fx-ed