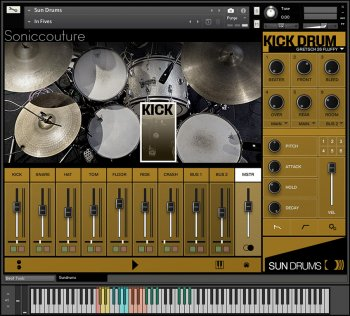 SUN DRUMS
VINTAGE DRUMS FOR MODERN BEATS
100+ VELOCITY LAYERSBEAT TOOLS100 KITS8GB LIBRARYKONTAKT PLAYER NKS
Sun Drums is a sister instrument to the acclaimed Moonkits – focusing purely on sticks, not brushes – with the same studio, the same vintage desk & mics, the same softer, dynamic drumming style.
Featuring a huge collection of vintage & modern drums, Sun Drums is built with a modern, dry sound in mind – from classic breakbeats to booming hip-hop or just fat pop drums.
HERITAGE SAMPLING
Sun Drums was recorded at Konk Studios in North London, founded, and still owned by, Ray Davies of The Kinks. The room harbours a fantastic drum sound, as heard on records by The Stones Roses, Massive Attack, The Fall, Blur, Depeche Mode, Portishead, Al Green, The Cure, Artic Monkeys, The Kinks and about a million others.
The custom Neve console (with 1095 EQs) was bought from Utopia studios in 1974 and was used to record The Wall by Pink Floyd among many other classic records.
KONTAKT PLAYER (6.6) COMPATIBLE
This is a Kontakt Player instrument. This means that you do not need to own the full version of NI Kontakt to use it. It will run as a plug-in instrument in any VST/AU/RTAS/AAX/WASAPI,compatible host program or DAW eg: Cubase, Logic, Ableton Live, DP, Reaper, Pro-Tools. No extra purchase necessary.
PRESET KITS & GROOVES TOUR
Sun Drums includes over 100 premade kits, each with it's own groove set up in the Beat Tools.
Each groove can be dragged into your DAW as MIDI for easy workflow.
Here's a small selection.