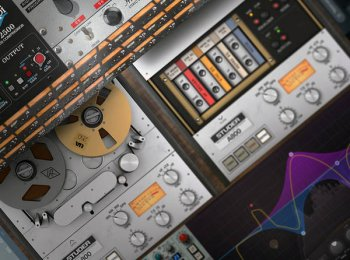 If you're not familiar with mix bus processing, you're about to enter into a new sonic realm! Groove3 instructor Thomas Cochran has put together a 65-minute mix bus video course that tells you everything you need to know about this powerful mixing technique. Among other things, you'll learn how to enhance the groove of your mix, add color, and achieve a more balanced sound overall, all of which will help your tracks sound more polished and professional. These videos are for those new to mix bus processing.
Throughout the course Thomas utilizes the following plugins, but you can achieve similar results with any similar plugins:
UAD Studer A800
UAD API 2500
UAD Hitville EQ
Oeksound soothe2
FabFilter Pro Q 2
Brainworx AMEK 9099
Izotope Ozone 9 Harmonic Exciter
Izotope Ozone 9 Stereo imager
Thomas begins by giving an overview of mix bus processing: what exactly it is, how it's used, and what it can do for your mixes. Then you'll dive in and start exploring ways to add color by introducing slight distortion by way of tape emulation, console emulation, and harmonic excitation. This subtle effect is the first of several steps that result in big, noticeable changes in the final product.
Next, discover how, with the use of compressors, you can add dynamics and groove to your track while increasing the overall balance. Thomas also demonstrates how various styles of compressors each add their own distinctive color as well. Learn how EQ is used to shape the tone of the mix, which also results in a more balanced frequency spectrum.
See how to tame resonances with the soothe2 plugin (from Oeksound) – another subtle but critical element in a fine-tuned mix. Finally, explore the topic of stereo width and learn how you can achieve extra depth and clarity with the use of stereo-widening plugins.
Check out the individual descriptions for more information on the contents of each Mix Bus Processing video and the ways in which this technique can greatly improve your mixes. You'll even have access to the files used in the tutorial, so you can follow along and apply the techniques in your own DAW! Don't neglect this powerful mixing skill any longer … watch "Mix Bus Processing