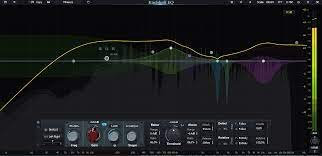 Kirchhoff-EQ
ULTIMATE EQ PLUGIN WITH SUPERB DYNAMIC PROCESSING AND VINTAGE MODELS
Kirchhoff-EQ is an ultimate 32-band parametric EQ plugin built for all critical professional applications. It has refined sound quality, analogue-matched curves, 15 filter types with continuously variable shape and 32 vintage EQ types modeled from real-world devices. The builtin dynamic processing functions are highly flexible and have ultra-low distorion. All these push Kirchhoff-EQ to a next-generation standard.
Equalizers will never be the same again.
Ultimate Sound Quality
Robust Nyquist-matched Transform
Through originally developed "Robust Nyquist-matched Transform", Kirchhoff-EQ has made digital-domain frequency response more approximate to its analogue counterparts without high frequency cramping as in regular IIR (infinite impulse response) equalizers. This technique is applied on all filter types in Kirchhoff-EQ.
High-Precision Processing
64-bits is mandatory and it's not negotiable. The internal processing of Kirchhoff-EQ is always in 64-bits (or 117-bits), regardless of host DAW's current working precision.
Psychoacoustic Adaptive Filter Topologies
All linear filter structures should have the same sound on paper. However in real-world application, round-off errors make every filter structure sound differently: some better in low frequencies, some better in high frequencies.
A technology called "Psychoacoustic Adaptive Filter Topologies" has been deployed in Kirchhoff-EQ. Filter structures change themselves to a "best fitting" state along with corresponding band frequency changes, resulting in optimized sound quality in both low and high frequencies.
Switchable Ultra-High 117-bits Processing
Since there's already 64-bits, why not go further? Kirchhoff-EQ uses a technique called "Double-Double" to make precision of internal processing reach 117 bits! This is the first equalizer in the world to reach such precision. You can switc