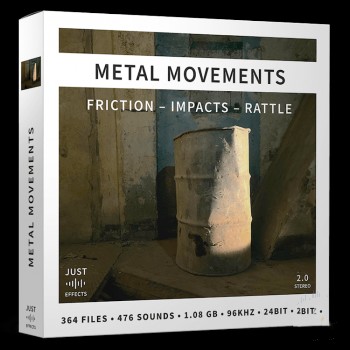 FRICTION – IMPACTS – RATTLE
You want to make those epic cinematic metal sounds used in every film or video game but don't have the right tools? METAL MOVEMENTS is a strong sound design toolkit made to create powerful impacts, massive destruction and epic transitions. This extremely versatile collection of metallic squeaks, scratches, rattles, impacts and various metallic movement sounds from different perspectives gives you the best source materials when it comes to making your own cinematic metal sounds. Let your creativity flow: pitch, stretch, layer and hugely process the sounds to their limits.
RECORDED IN AN ABANDONED FACTORY HALL
The perfect spot to capture the sounds for this library was an old factory building. The place was full of huge steel girders, rusting barrels, chains, rattling metal sheets and resonating poles. The unique sound of the former production hall provided a huge and clean reverb that makes the recordings sound really impressive – perfect for those big and boomy metal impacts. Also we included the impulse response of the hall to this sound pack, a huge reverb is waiting for you!
AVAILABLE IN STEREO AND QUAD
Because of the special sound quality of the factory hall, we decided to record the library in both stereo and quad. If stereo isn't enough for you, dive into the surround sounds and create something stunningly immersive. Each version also includes near mono recordings with less reverb to give you more control over shaping your transients.