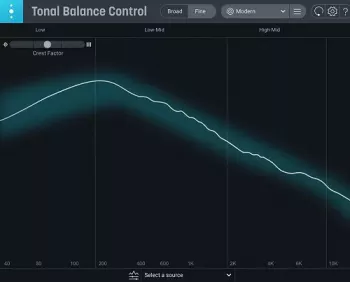 FIND YOUR BALANCE
Overcome your listening environment and make mixes that translate with Tonal Balance Control 2, a plug-in that helps keep your sound on target in any genre.
Welcome to Tonal Balance Control 2!
Finalize and fine-tune your master using target curves for different genres. Use Tonal Balance Control 2 in your mix session and adjust gain and EQ for Nectar, Neutron, other compatible iZotope plug-ins (available separately)
Why Tonal Balance Control 2?
Create with confidence
Clearly view the tonal balance of your audio and compare against 12 target curves representing popular music genres. Or, load an audio file to create a custom reference curve.
Fix your mix in one window
Talk to compatible iZotope plug-ins like Relay and adjust your tracks without leaving Tonal Balance Control 2. Open and control EQs from Ozone and Neutron for even more surgical possibilities!
iZotope Relay included
Adjust your tracks' gain, pan, stereo image, and more with this lightweight mixing tool included with Tonal Balance Control 2. Relay talks to Tonal Balance Control 2 and lets you view the frequencies of any track against your tonal balance target.