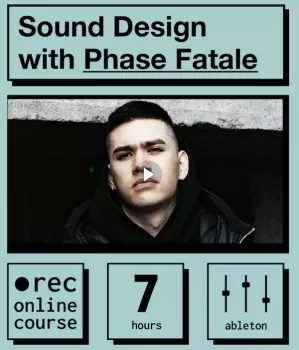 Since releasing his debut album in 2017 on Hospital Productions, the NY-raised, Berlin-based DJ/Producer has secured residencies at both Berlin's Berghain and Tbilisi's Khidi – two of the most renowned techno clubs in the world. A wizard in the studio and gifted synthesist, Phase Fatale will open up his studio for an inside look into his signature approach to sound design. From basic signal flow and subtractive synthesis to headier topics like control voltage and granular synthesis, you'll embark on a sonic journey into the world of waveforms, filters, and sound processing with one of the scene's hottest artists.
Phase Fatale is the Berlin-based techno project of Hayden Payne. Since 2014, the New York native has earned a reputation as a techno innovator, both for the broad spectrum of dystopian, gritty, industrial-laden electronics included in DJ sets as well as his deep understanding of synthesis and sound design in his own productions.
With his debut album on Hospital Productions (Redeemer, 2017) and his second on Ostgut Ton (Scanning Backwards, 2020), Phase Fatale has settled into residencies at both Berghain in Berlin as well as Khidi in Georgia's capital Tbilisi.