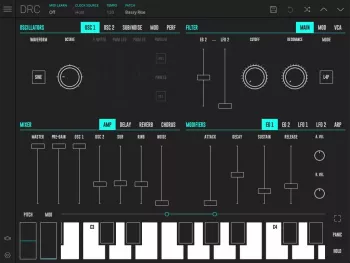 Amazing, warm analog sound
DRC uses the exact same synth-engine on all platforms for a consistent, high quality sound.
Vintage sound, modern design.
With a clean, minimal design focused on accessibility, the intuitive interface allows you to concentrate on creativity and control of your sound, free from visual distractions.
Sound design, anytime
With cloud sync functionality, you can seamlessly shift your workflow between devices, for sound design on the go. Take your creations outside of the studio, or start a new sound on your mobile then move it to your DAW.