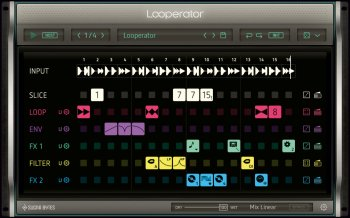 Enter the FX matrix!
Looperator chops up your audio and turns it into something new. In the process, you can dispose of the classics like Filters and Reverbs, but also trippy Loop and Vinyl manipulations. Looperator makes you sound as if you worked on your track for hours and hours and really all it took was a click of a button.
Key Features:
16-Step Sample Slicer
Looper with Reverse Mode
Time Stretch & Talkbox Filter
Recall presets with MIDI notes
Independent Control for left/right Channel
Unlimited Undo/Redo
Intelligent Random
5 Parameters per effect and step
Patterns over your sound
Plug in and let loose!
Looperator unites two concepts: you can re-arrange the material with the Slicer and place effects with surgical precision. Right from the start, we aimed at a tool that is easy to handle and produces favourable results.
The preset tools make creating of rolls, loops and stutter edits, that can be fiddly to build in a DAW, a matter of a few mouse clicks.
And when inspiration has left the room, the smart random algorithms with detailed programming options will generate sequences with a high chance of sounding balanced and useable.
Hands-on control
Extensive MIDI integration & modest on your CPU
Looperator can be triggered in sync with the DAW's transport controls, or via notes from a MIDI track. In a classic DJ setup, it syncs to your DJ software.
You can assign complete effect sequences to MIDI notes – this way you can trigger individual patterns. This gives you plenty of flexibility when it comes to applying magic to audio signals in a live environment.
Find a boring drum loop! In under a minute, you'll have something sounding not only completely different, but truly compelling.
It's undemanding on your resources, so running a number of instances and incorporating the results into a broader project is a truly effortless process.
User Steps
The beauty of under the hood editing power