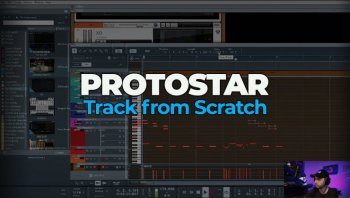 Protostar (Alex Mallows) has broken his way into the Drum & Bass scene. Standing out for his signature sound, his transition to Drum & Bass has allowed for him to flourish with a unique style that pulls from years of experience in the Glitch Hop genre.
Protostar has been an essential member of the Monstercat roster since 2013. He has performed for thousands of fans around the world, and his song "Galaxies" was the official launch tune for the hit video game Rocket League. His songs have been featured in other various video games such as Trials Rising and Aaero, spreading his music to a consistent flow of new fans. He even claimed the title of first official Minecraft remix with his D&B spin of C418's "Aria Math".
In this course, Protostar takes you on a journey through the song creation process. You'll learn how to build a basic structure for a song, how to craft a breakdown and build-up, how to add the perfect polish to your final product, and the importance of taking a break from the process to let your song (and your ears) breathe.
Total runtime: 6hrs 12mins
Reason